The Quest for Quality: Designing a high-quality carbon project in India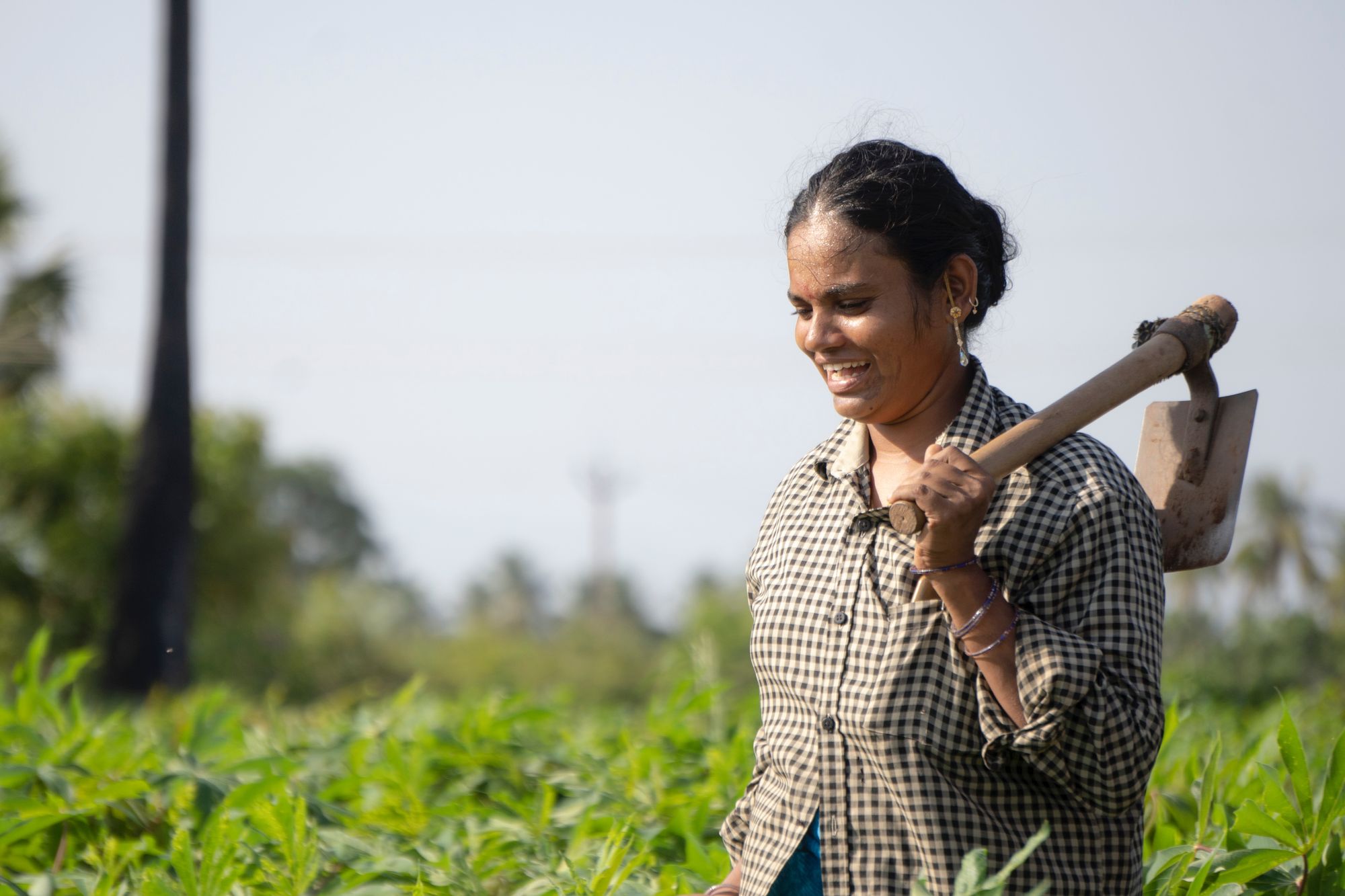 It's been an eventful few quarters for the Carbon Market industry. The year began with a watershed article from the Guardian calling out REDD+ credits for being worthless, "phantom credits". This set off somewhat of a chain reaction, with the ICVCM later releasing revised guidelines for the assessment of credits and introducing a Core Carbon Principles (CCP) label; followed by VERRA also choosing to revise its VCS standard. All this to say that the "quality of credits" has been the hot topic of conversation for 2023.
Chasing high-quality credits has been described as "searching for buried treasure without a map". The comparison is especially true, given the rise of nature-based (NBS) and community-focused credits in the market. Previously popular energy credits are more commoditised and have pre-defined project designs. NBS and community-driven credits, on the other hand, involve far more marginal stakeholders and present more potential for impact. They offer more freedom to design a high-quality project, but navigating their complexities is proving challenging for most players in the industry.
In an ideal world, buyers would know exactly what a high-quality project entails and would demand the same from suppliers - who would respond in kind. However, the industry is so nascent that there is a glaring lack of understanding of what needs to happen for a project to be considered "high-quality". This is especially true in India, where we (Climes) have spent the last couple of years working on originating high-quality credits.
Below is a summary of our learnings, compiled to paint a close-to-accurate picture on what it takes to design a high-quality carbon project in this region.
India - the land of a billion stories, flavours and well, carbon emissions.
Let's take a step back.
At a fundamental level - carbon credit projects are about infrastructure change. Each sector in India, be it agriculture, energy or transport etc, must transition to more sustainable systems if they want to maintain the pace at which they are industrialising. In many cases, this green shift can be incentivised via financial instruments like carbon credits.
Furthermore, because India is so massive, fast-moving, and geologically, culturally and economically diverse - it provides myriad opportunities for the development of large-scale carbon credit projects that lead to genuine impact.
The infographic below highlights some of the key advantages that make India ripe for large-scale carbon project development.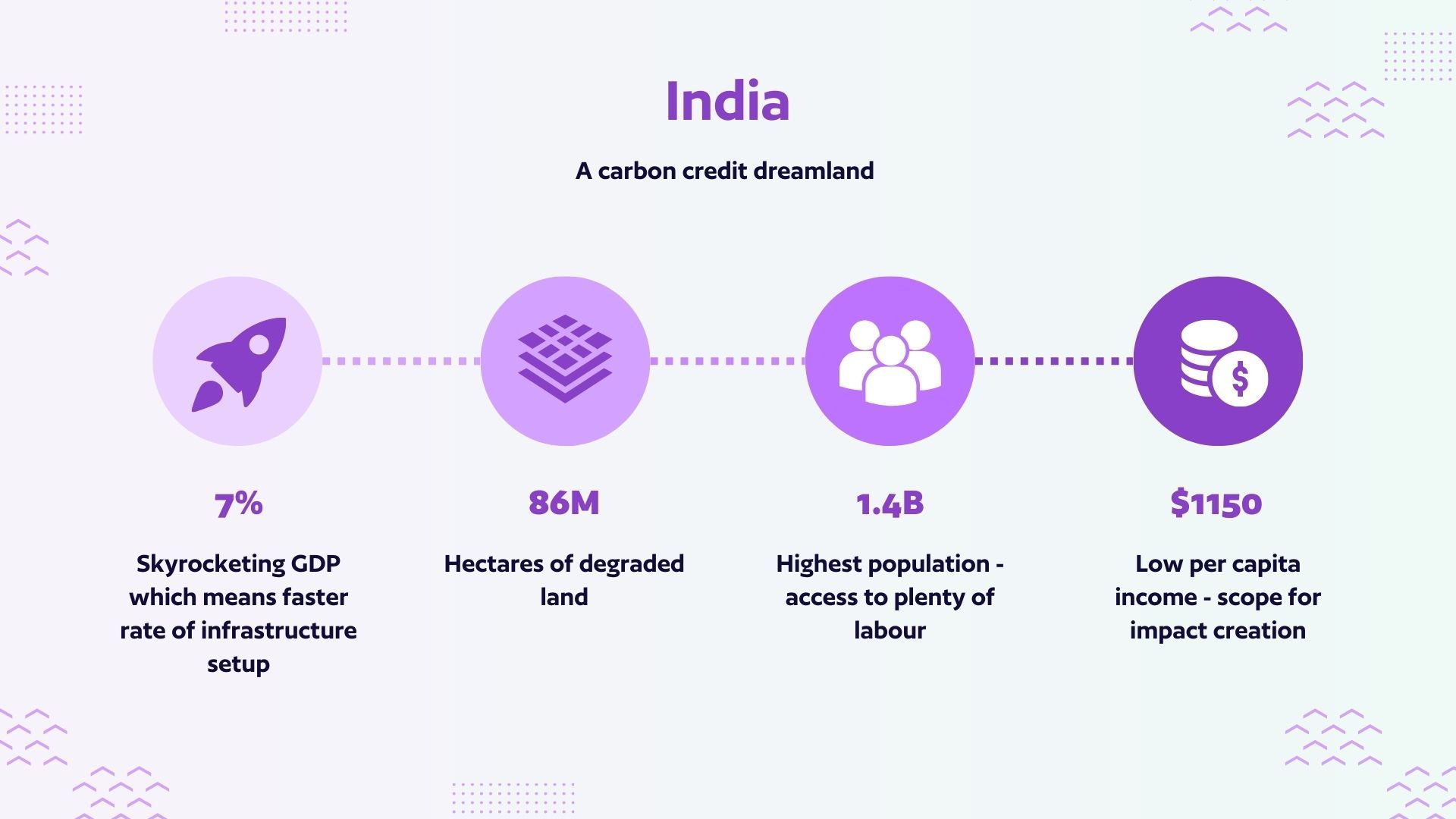 Not only is it important for us to leverage carbon credits as a tool to incentivise a green transition and build more sustainable infrastructure across all sectors  - we have the opportunity to do this at scale using the natural anatomy of our country. In the last decade, India exported around 15-20% of the total VCM credits issued worldwide. This means a viable system for implementation is already in place, what remains is using it to generate better quality credits that create meaningful impact.
Understanding "high-quality" carbon credits from an Indian lens

The quest for high-quality carbon credits in India is like a game of chess, where every move counts. The quality of a project is less about one particular aspect and more about the interaction of multiple moving parts - because even one small drawback can impact the credibility of the whole. Designing a high-quality project means understanding the details and risks of each stage in a project's lifecycle and making sure they're accounted for - with no room for error.

The infographic below highlights the six key features of a carbon project.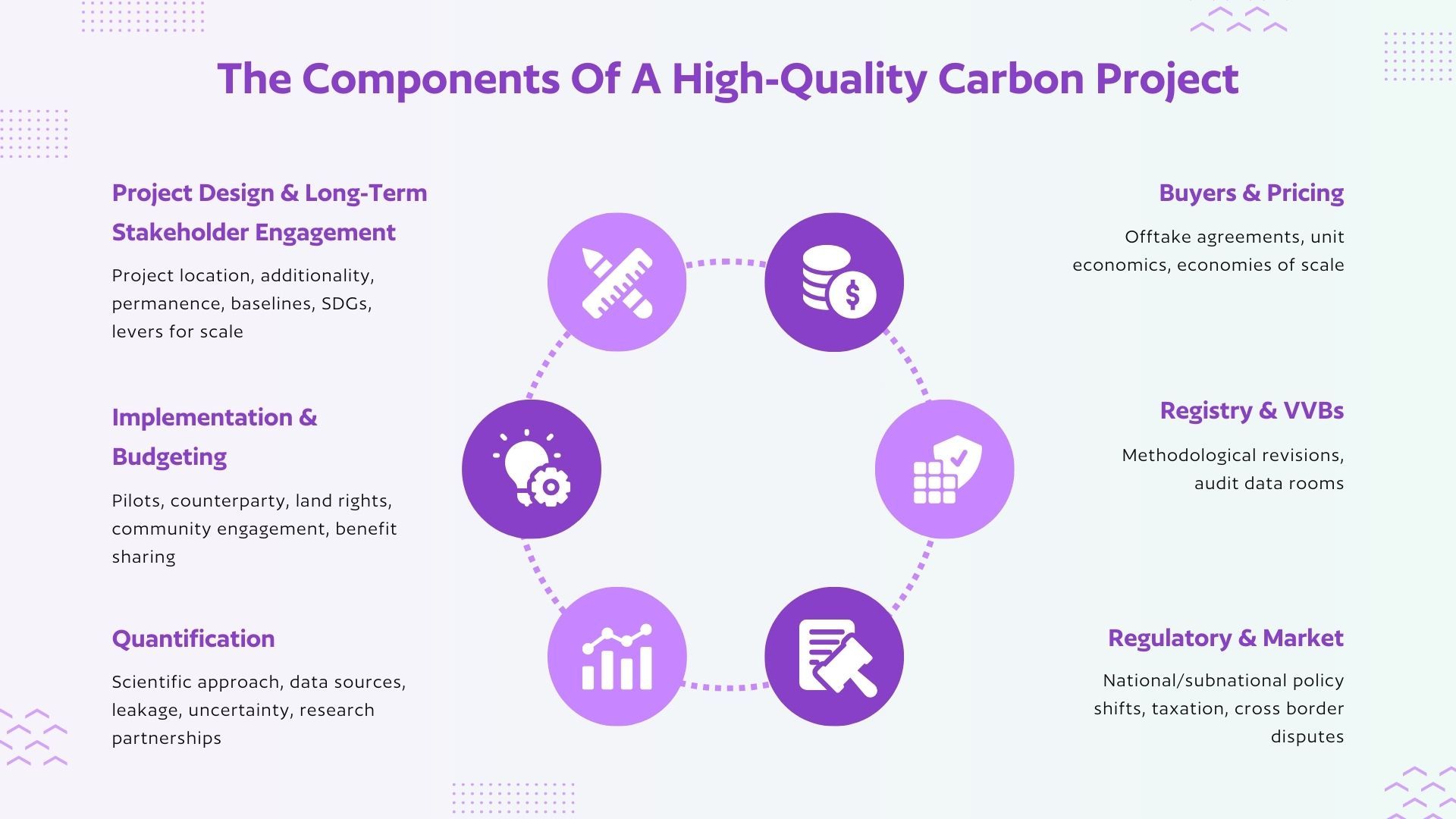 Setting up a high quality project
Now, onto the main event. Most key decisions and structuring will take place in years 0-2, however attention to detail is paramount throughout the project's lifecycle. Critical considerations for each phase of a high-quality project are listed below:
Phase 1: Project design & feasibility
Choosing the right registry & methodology: Carefully pick a methodology that fits the location and stakeholders you're operating with and qualifies for relevant eligibility criteria. It's important to get each minute detail correct.
Additionality: Justifying additionality cannot be a one-time exercise. It's important to stay abreast of changes (e.g. policy) that can impact the credibility of your claim. For example, the Haryana govt. introducing financial incentives for avoiding crop residue burning, would jeopardise the additionality claims of any related projects that started in the last 1-2 years.
Baselines - the dark horse: Time must be spent making sure baselines are carefully defined. Tools like geospatial imagery can be used to support your claims but each farmer must be given individual consideration and sweeping generalisations should be avoided.
Levers for scale - from day 1: Ensure that you have options or partnerships with credible parties across the supply chain, so that the ability to scale is not jeopardised later due to unwanted dependencies.
Phase 2: Pilots, Quantification and Buyers
Quantification: Because nature is fundamentally hard to model, scientific justifications of your quantification methods become important. Often the lack of public data and related investment present a big challenge, due to which many project developers end up investing in research themselves.
Access to upfront finance & buyers: Most nature based solutions require high upfront capital expenditure. A high quality project would have locked-in capital ready for deployment.
Pilots: It is critical to demonstrate confidence in your proposed project impact via results from small scale pilots, in similar conditions.
Phase 3: Implementation, Audits and Issuance
Benefit sharing: Benefit sharing is often found in project structures, but can fail during execution - it is one of the harder pieces to get right. A high-quality project needs to have systems in place to make sure benefits are distributed effectively and fairly.
Keeping up-to-date with the standards: Methodologies will always keep updating. Staying up-to-date & even pre-empting revisions of standards and methodologies is crucial.
Heavy attention to detail for audits: One minor sentence or error in the eligibility criteria can lead to questions on the entire project.
Finally, there are two overarching realities to keep in mind when designing a high-quality project:
To an extent, the definition of project quality will be subjective.
It is important to always keep financiers and stakeholders in the loop so that you are all aligned on how that quality is being defined. And make judgement calls with your buyer's expectations in mind.
Methodologies will keep updating.
As science progresses and develops better ways to monitor and quantify emissions - methodologies will change too. On average, you can expect them to update every 1-3 years depending on the sector. See this as an advantage rather than a disadvantage - more updates mean more accuracy.
How we ensure quality at Climes:
Climes is a climate-finance company building the infrastructure for designated as well as non-designated climate capital to flow to high-quality climate action on the ground. We leverage science-based Digital-MRV solutions, strong working relationships with large-scale implementation partners and program structures which keep smallholder farmers at the centre of the finance flow to originate high-quality, nature-based carbon projects in India.
Our current portfolio and pipeline of farmers extends to nearly 250k smallholder farmers in ~600k acres of land.
Get in touch with us to know more about financing high-quality nature-based solutions and to explore potential collaborations: supply@climes.io